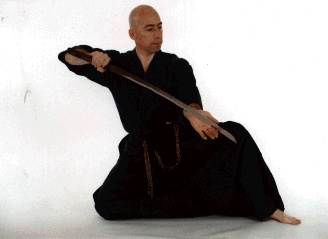 Guy Power, first sensei and founder of Kenshinkan Dojo, lives a full and rich life in the San Francisco Bay Area. He has "moved on" from martial arts activity with pride and confidence in his successors.
1952 - Born at Fort Benning Georgia.
1968 - 1970 - Bangkok, Thailand. 1st Dan, Chang Mu Kwan Taekwondo under Kim Myung-soo, 6th Dan.
1970 - Bangkok, Thailand. Not ranked, Kendo (AJKF chapter).
1970 - 1973 - Charleston, SC. 1st Dan, Mugai Ryu under Albert C. Church, 3rd Dan (his teacher, Kuniba Shogo sensei). 3rd Dan, Shorinji Tekken Ryu Kenpo; 3rd Dan, jujutsu.
1983 - 1985 - Los Angeles, CA. 1st Dan, Toyama Ryu Iaido under Obata Toshishiro, Kyoshi 7th Dan (his teacher, Nakamura Taizaburo Sensei).
1985 - Co-authored Naked Blade, a book of Toyama Ryu Iaido techniques.
1986 - 1988 - Monterey Institute of International Studies. BA in Political Science; minor in Japanese language.
1988 - 2nd Dan Toyama Ryu Iaido; shido-in hosa (assistant teacher) license from Obata san.
1990 - 1994 - Sobudaimae, Japan. No ranking, Muso Jikiden Eishin Ryu Iaido under Onozaki Mitsuhiro (his teacher: his father. Father's teacher: Nakayama Hakudo, 16th soke of the Shimomura faction, Muso Jikiden Eishin Ryu Iaido). Received mokuroku from Onozaki sensei.
1990 - 1994 - Yokohama, Japan. Renshi, 6th Dan, Toyama Ryu Iaido; Okuden license, Nakamura Ryu Battodo; Densho certificate presented by Nakamura Taizaburo Sensei (Soke); the next soke will be selected only from the 45 Densho holders. Studied under Nakamura Taizaburo Sensei, Hanshi 10th Dan; Satoh Shimeo, Hanshi 9th Dan; and Suzuki Kunio, Kyoshi 8th Dan.
3 Nov 1993 - Tokyo, Japan. Performed Toyama Ryu kata at Meiji Shrine during the Nippon Kobudo Shinkokai (Japan Ancient Martial Ways Preservation Society) annual demonstration.
1994 - Yokohama, Japan. Chartered as the International Battodo Federation representative for America; received the traditional wooden sign of authorization (Kanban). Received the kanji scroll for Kenshinkan Dojo from Nakamura Sensei.
1995 - Mountain View, CA. After teaching in various locations in the Bay Area temporarily, secured space for Kenshinkan Dojo at Moffett Federal Airfield, where the dojo has remained until present day.
1997 - Elected as Permanent Member, Board of Directors for the International Battodo Federation.
1995 - 1998 - San Jose State University. Master of Arts in Public Administration (MPA).
2001 - San Diego, CA. Promoted to Renshi, 7th Dan.